Joachim Mencel – Brooklyn Eye
Joachim Mencel – piano, hurdy-gurdy (vielle à roue)
Steve Cardenas – guitar
Scott Colley – bass
Rudy Royston – drums
Origin Records, 18 września 2020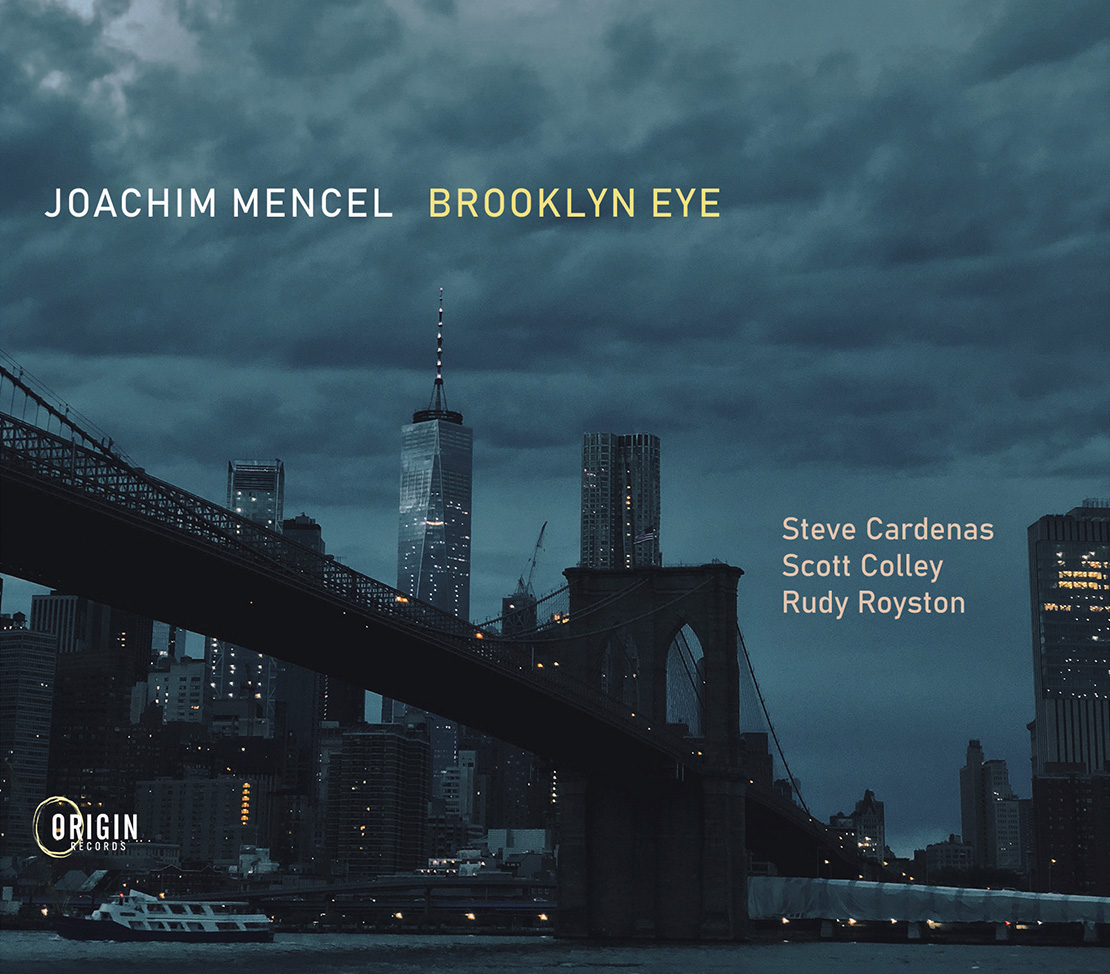 "Above all… Joachim's phrases… have this melodious charm, which is available to only the greatest of pianists."

Paweł Baranowski, Diapazon (Poland)
Celebrated Polish pianist, composer, lyricist, and a foremost proponent of modern jazz on the hurdy-gurdy (vielle à roue), Joachim Mencel has a wide-ranging career composing for film, orchestras and ballet, touring with his jazz projects, or appearances with giants such as Lee Konitz, Dino Saluzzi, Richard Galliano, Dave Liebman, Eddie Henderson, Charlie Mariano, and many others.Though he's experienced performing in America before, including being a part of the Monk Piano Competition in 1989, "Brooklyn Eye" is the realisation of a dream forged in his youth behind the iron curtain. Recording compositions that were informed by the culture, musicians, harmonies and feelings of America, and then to record in New York City with several vital improvisors whose music has inspired him for years - guitarist Steve Cardenas, bassist Scott Colley and drummer Rudy Royston - Mencel terms Brooklyn Eye, "a symbolic, idyllic place where dreams come true." Recorded the day after Notre Dame Cathedral burned in Paris, a palpable melancholy presided over the session, adding further dimension to this pivotal experience in Mencel's musical life.
JAZZ WEEKLY
…Mencel's piano touch is modern and confident here, while his hurdy-gurdy takes you to other worlds. An exotic "Two Pieces with Beatrice" sounds like a Mancini soundtrack from the world travelling 60s..

George W. Harris.
allaboutjazz.com
In seeing his dream through, Joachim Mencel has created an album of tremendous depth, passion and promise…

Dan Bilawsky.
33third.org
Take an 10th century instrument, combine it with a stellar quartet, and you have Joachim Mencel Brooklyn Eye playing the hurdy-gurdy on his marvelous new Origin Records release 'Brooklyn Eye.' Currents album of the week on 33third.org
The vielle à roue (hurdy-gurdy) makes for a remarkably compelling Jazz instrument on Joachim Mencel's 'Brooklyn Eye,' on Origin Records.

Michael Ambrosino
Midwest Record
"A real treat."

Chris Spector
jazz.pl
Album " Brooklyn Eye"it is quite a significant, stylistic synthesis for Joachim Mencel's music, as it hides not only the ambitions of an outstanding composer and seasoned pianist, but also fits neatly into the orthodoxy of today's American jazz. Joachim Mencel does not try to expose himself and the virtuosity he has (both as a pianist and the undisputed master of the "jazz" hurdy-gurdy), but he is one of the important elements of the entire, well-thought-out and realized session. The American album may not be too "roots", but it smuggles what is most important in the whole "Joachim Mencel's jazz": a bit of melancholy, melody, elements of some Slavic rhetoric subordinated to the hard principles of New York (read: Brooklyn), jazz texture.

Dionizy Piątkowski